You can easily move barrels by scanning them with the barcode scanner.
Barrels in a barrel group must be moved together. If you need to move them individually, use the vintrace web application.
To move barrels with the legacy barcode scanner:
Scan a barrel.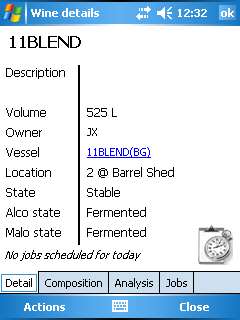 From either the wine or the barrel group, tap Actions, then tap Move.
The Move Group screen displays.
You can select the barrels' storage area bay and starting/ending stacks.
Tap Add.
To enter multiple locations for the barrels, enter the information, then tap Add again.
Tap Save.