BEFORE YOU BEGIN: Be sure your scanner has an internet connection.
To use your scanner with vintrace, do the following on your scanner:
From Internet Explorer, navigate to http://go.vintrace.net/legacyscanner.
Download the following files:
NETCFv2.wm.armv4i.cab
symbol.all.arm.cab
System_SR_ENU_wm.cab
PistolGripCab.cab
From the File Explorer, click the files listed above in the same order. You may be prompted to restart the device during the installation of these files.
From the Start menu, open vintrace.
Tap the Connection tab.
Enter the vintrace URL. The URL will be similar to the one that you use to access the vintrace web application, except you'll need to replace the end with MobileWebService. For example, http://<YourServer>.vintrace.net/<YourClientCode>/MobileWebService.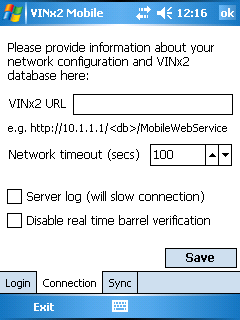 Remove the scanner from the dock to enable wireless connectivity.
From the login screen, enter your credentials, then tap Login. The following screen displays.
Tap Sync to synchronize data to the scanner.
When the sync is completed, you can test that the installation is working correctly by completing a work order.